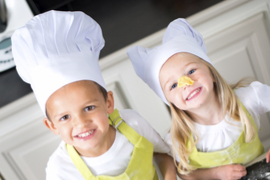 Duration
5 classes
9am - 1pm
Price
$50 day or $220 week
Description
This summer camp cooking and pastry program is aimed for children between 5 and 12 years old, they will learn basic culinary techniques through practical classes. The children will make various recipes applying cooking and pastry techniques, developing their motor skills and knife techniques, and expanding their knowledge of ingredients, nutrition and health and safety in the kitchen. The small chefs will work in groups with our professional teachers developing international recipes to master the fundamental culinary skills.
Information
WEEK 6
July 23 – July 27
Class I: Homemade Pasta
• Colored Pasta from scratch
• Potato gnocchi
• Carbonara sauce
• Pomodoro Basilico sauce
• 4 cheese sauce

Class 2: Pizza Party
• Pizza dough from scratch
• Pizza sauce
• Pizza Cone: Tri-Meat
• Stuffed Pizza: Your favorite
• Calzone Napolitano
• Nutella,Bananas and Strawberries pizza
Class 3: Healthy Lunches
• Healthy sandwiches
• Chicken and veggie wrap
• Vegetarian Burrito
• Gourmet Panini: Prosciutto & Spinach
Class 4: Mexican Day
• Nachos party
• Guacamole
• Crazy tacos
• Brownies
Class 5: Sushi
• Shari
• Uramaki
• California roll
• New york roll
• Creative rolls
• Smoked Salmon niguiri
• Sweet roll
• Spicy Mayo rolls
• Chocolate Chip Cookies
Cancellation policy: If you cannot attend a class you booked and you notify the school 24-hours prior to the schedule class, you will receive a credit for the total amount of your purchase to be used for another class. If you don't show for the class and don't notify the school, a no-show fee of $20 dollars will be charged and only a $40 credit will be provided. Credits are non-transferable and valid for 90 days.